We are overwhelmed with all of the amazing greetings, messages and calls we received the last couple of days celebrating the opening of our brand new US Headquarters in Wichita, Kansas. We really grateful of all of you who could join us and celebrate this event with us!
We were honored with amazing speeches by Tom Gentile, President and CEO at Spirit AeroSystems, Mayor Brandon Whipple, John Rolfe from the Wichita Regional Chamber of Commerce, and the evening reception from Henry Newell at Orizon Aerostructures.
We really appreciate all of you and are grateful of this exciting time for the MODIG family!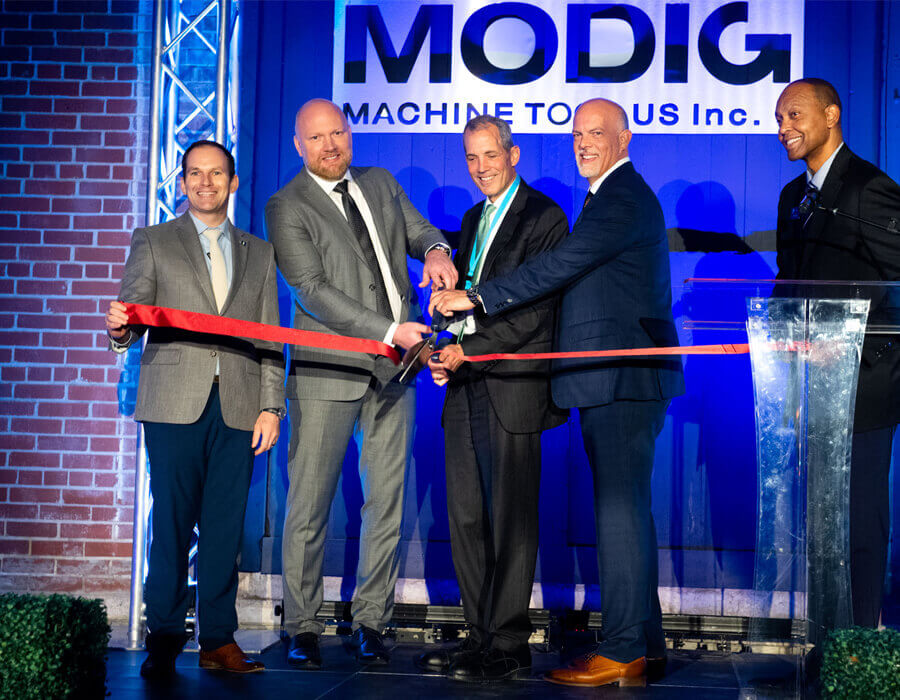 LINK: Watch Tom Gentile, President and CEO at Spirit AeroSystems, speech at the ribbon cutting ceremony:
"Thank you very much, Keith and congratulations to David and to Keith and to the entire MODIG company.
This is an exciting day and as Keith said, that we may be their largest customer, but they are also our largest supplier of machine tools. We have over 60 MODIGs. This partnership has extended for more than 26 years. So, way beyond even when Spirit was born, so back to when we were Boeing Wichita. And as I understand it, eight different machines that were introduced were first tested at Spirit's Wichita headquarters.  So, this is a partnership that goes back a long way. One thing that's unique about it is that when we have a complex situation that's demanding, state of the art technology, innovation and new solutions, the machines that we always end up turning to are MODIG. And I can think of some recent examples where we took the most complex parts that we had on our 737 MAX production line, and we looked at MODIG to help us figure out how do we machine these in the most efficient way possible to deliver the best quality and meet the highest production rates. And they come through.
And as we are industrializing these machines, I have known David and his team for five years, but when there's an issue or troubleshooting to be done, David's there himself on a Saturday morning, helping us figure out how to get these machines up and running. This is the type of relationship that we've always had with MODIG. And as we look forward and we look to expanding beyond commercial to different areas whether it is defense or aftermarket we're looking at MODIG machines. Because they have the best technology, whether it is aluminum or hard metal. The most innovative features and they're really having the newest technologies to make sure that it would be the most efficient possible and deliver the highest quality. So we are thrilled to be a partner, we're thrilled to be here at this event. I've been reading about it in the press, for the last week or so. A Swedish company coming to Wichita to establish a North American Headquarters. We couldn´t be prouder that you picked Wichita and we're looking forward to having you right here in our neighborhood as we go forward to the next 26 years. So, thank you again and Congratulations David and Keith. A great day for Wichita and for Modig."
– Tom Gentile, President and CEO Spirit AeroSystems
---
LIVE ribbon cutting broadcast with Tony Gunn, The Gunn Show Podcast, October 27th at 12:00 (Kansas time)!